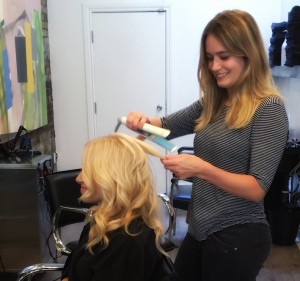 Be A Hair Model
Posted by Fringe Hair Salon in News
17
Jun
2015
Would you like to be a hair model? Here at Fringe we are looking for participants who can donate some of their time in exchange for a hairstyle, cut or even colour!
We have two apprentices at Fringe who have already completed their educations at hair college, and they are now taking the next step by training with the Fringe team to hone their skills by practicing both classic and cutting edge styles. They both need hair models to help them complete their training.
Want to Meet our Apprentices? Read on:
Matt
Matt B. came to Fringe last fall, originally from Nova Scotia, he decided to leave is job in accounting and pursue his dream in hairstyling. Coming from a family of stylists, he quickly learned that hairstyling was in his blood and that his talent was strong. After moving to Toronto and finishing his styling education he started here at Fringe. He is the King of the curling iron and will give you beach waves that will last for days.
Victoria
Victoria R. just joined the Fringe team this June. After moving to Toronto from Waterloo she completed her training at the Aveda Institute. Although she's only been here for a few weeks she has quickly become part of the team and impressed us all with her styling talents.
To have one of these talented artists create a look for you please fill out our "Be A Model" form and we'll get back to you to schedule your experience: www.fringeinc.ca/hair-models/
This is your chance to be a hair model, to help young artists, to have a fabulous experience here at Fringe, and to walk out looking and feeling beautiful.
If you would like to bring a friend or family member let us know and we'll schedule you for the same time, why not make a fun day of it!
We can't wait to hear from you.
Fringe